Flat Roof Dome Access Hatch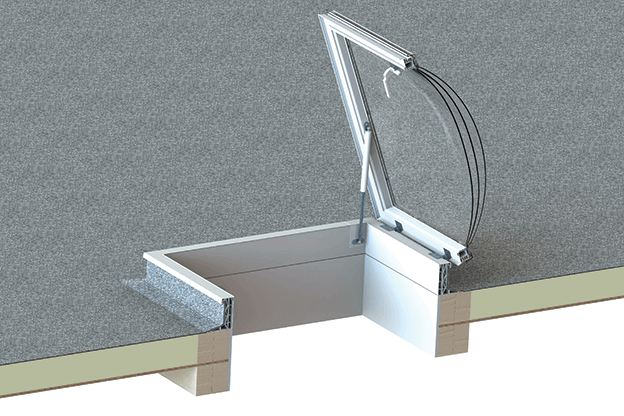 Access Hatch
Flat Roof Dome
The Keylite Flat Roof Dome Access Hatch (FRD-AH) is designed to allow access to and from roof areas and can form part of a fire escape route.
The hinged frame opens to 80° to allow a safe route for personnel and equipment, while often avoiding the need to provide other external facilities.
All the standard Flat Roof Dome features are available with the added benefit of a safe access route.
Telescopic gas struts.
Available with either internal or external locking mechanisms.
Excellent insulating value and sound reduction.
Roof Window Sizes
 

Window Size
1000x1000
900x1200
1200x1200
Opening Size
1025x1025
925x1225
1225x1225
Fixed - Product Code
Clear
FRD-S10-AH
FRD-R12-AH
FRD-S12-AH
Frosted
FRD-S10-FR-AH
FRD-R12-FR-AH
FRD-S12-FR-AH
Roof Window Sizes
Select white or pine finish to reveal roof window sizes
Dimensions
Roof Window Sizes
Window Size
1000×1000
900×1200
1200×1200
Opening Size
1025×1025
925×1225
1225×1225
Fixed – Product Code
Clear
FRD-S10-AH
FRD-R12-AH
FRD-S12-AH
Frosted
FRD-S10-FR-AH
FRD-R12-FR-AH
FRD-S12-FR-AH