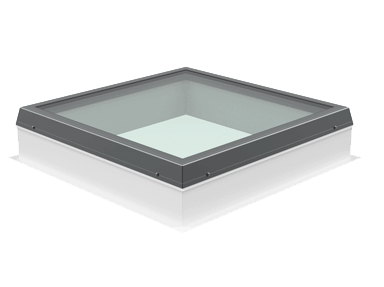 Flat Glass
Rooflight
With its anthracite grey frame and double glazed finish, the Keylite Flat Glass Rooflight provides a contemporary alternative to polycarbonate flat roof products.
The Keylite Flat Glass Rooflight is available in fixed shut, manual and electrical opening options with a toughened outer pane for maximum durability.
Features
Double glazed 6mm toughened outer pane.
8.8mm laminated inner pane.
U-Value of 1.3W/m2.K.
Insulated 150mm PVC upstand for enhanced thermal performance.
Suitable for roof pitches between 5° and 25°.
Can be installed on roof pitches below 5° when mounted to an additional upstand at 5°.
Fixed shut, manual and electric opening options available.
CWCT Class 1 non-fragile testing obtained.
Roof Window Sizes
 
Size Code
Description
S6
R69
S8
S9
R912
S10
R1015
S12
Window Size WxH(mm)
600x600
600x900
800x800
900x900
900x1200
1000x1000
1000x1500
1200x1200
Structural Opening Size
625x625
625x925
825x825
925x925
925x1225
1025x1025
1025x1525
1225x1225
Flat Glass Rooflight
FRG
Flat Glass Rooflight, fixed shut
FRG S6
FRG R69
FRG S8
FRG S9
FRG R912
FRG S10
FRG R1015
FRG S12
Flat Glass Rooflight (Manual)
FRG M
Flat Glass Rooflight, manual opening
FRG M S6
FRG M R69
FRG M S8
FRG M S9
FRG M R912
FRG M S10
-
-
Flat Glass Rooflight (Electric Switch)
FRG ES
Flat Glass Rooflight, electric operation with switch
FRG ES S6
FRG ES R69
FRG ES S8
FRG ES S9
FRG ES R912
FRG ES S10
-
-
Flat Glass Rooflight (Electric Remote)
FRG ER
Flat Glass Rooflight, electric operation with remote
FRG ER S6
FRG ER R69
FRG ER S8
FRG ER S9
FRG ER R912
FRG ER S10
-
-
Flat Glass Rooflight Downloads