Hat-trick of award wins for Keylite Roof Windows
Keylite Roof Windows (Keylite) came away victorious at this month's Builders' Merchants Awards, taking home the title of 'Supplier of the Year' at the 20th anniversary event.
This latest victory comes in quick succession after two other award wins for the brand. Keylite's Integrated Expanding Thermal Collar was crowned 'Best Roofing System or Product' at the 2021 Build It Awards at the end of November and the team also triumphed at the recent BMJ Industry Awards, picking up 'Roofing Supplier of the Year' for the fourth consecutive year.
The Builders' Merchants Awards is the longest-running event in the builders' merchant sector, celebrating its 20th anniversary this year. Over the past two decades, the awards have witnessed the celebration of some of the industry's top individuals, teams, projects and innovations within the sector, chosen by an esteemed panel of judges.
The 2022 awards took place at London's Park Plaza, where Keylite was crowned Supplier of the Year after the judges were looking for investment in research, technical and commercial innovation, relationships and strategic marketing, specifically targeted towards giving merchant customers a competitive edge.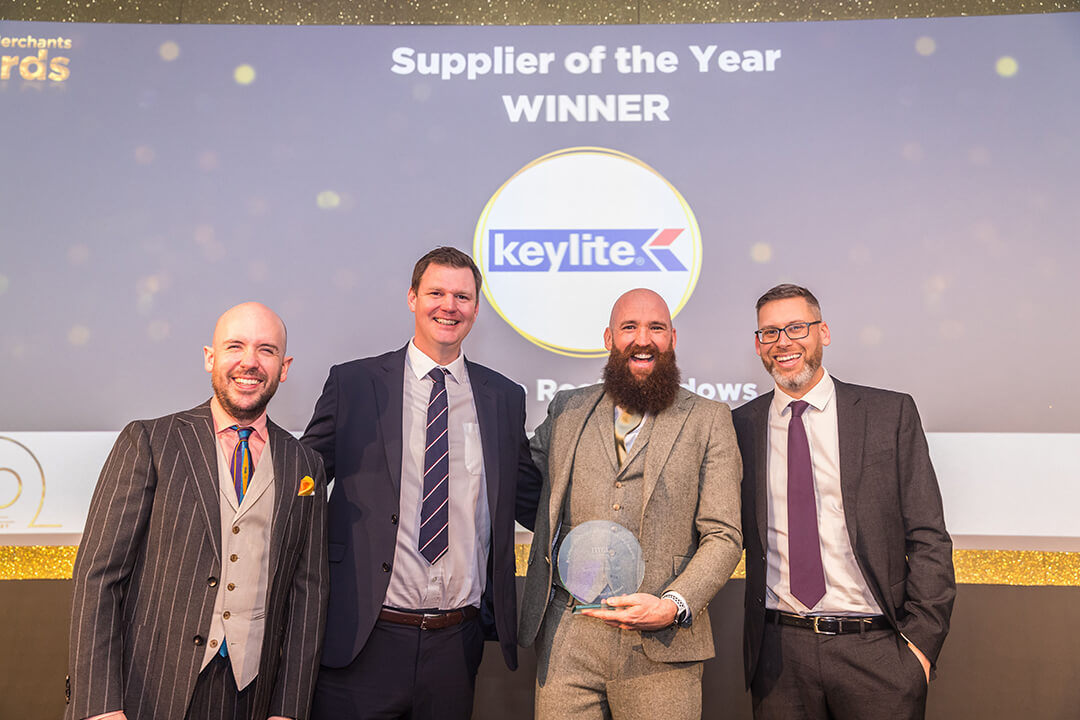 Tom Allan, comedian and host for the evening. Phil Boyland MD (Designate) MRA Marketing
The broad range of materials used in the manufacture of roof windows has been subject to severe supply disruption over the past 18 months. Despite this, the Keylite team has been working extremely hard to ensure they remain a solid supply partner for stockists, largely sheltering customers from these measures.
Matthew King, Sales Director at Keylite, said: "Our operations and supply chain teams have continued to work incredibly hard to keep new stock arriving, ensuring merchants are best placed to take advantage of increasing demand post-Brexit and COVID-19.
"It has always been a priority of ours to ensure that Keylite is driving sales to our merchant partners with lead conversions, online training portals and the very best in innovation. We are so delighted with all three recent award wins; they are testament to the collective dedication and hard work from every single team member at Keylite."
Jim Blanthorne, Managing Director of Keylite, added: "We are thrilled to have won the Supplier of the Year award at the Builders' Merchants Awards – particularly on its 20th anniversary. I'd like to extend a huge thank you to the wider team at Keylite for all their hard work, as well as to the judges and merchant partners that have supported us."
Keylite Roof Windows offer a full range of roof windows, blinds, timber loft ladders, flashings, electric operation kits and accessories, and is Europe's fastest-growing roof window manufacturer.