August merchant sales are up, but volume is down and inflation's still climbing
The latest Builders Merchant Building Index (BMBI) report reveals that builders' merchants' value sales were +10.0% up in August 2022 compared to the same month in 2021. But volume sales were down -4.2% with +14.8% price inflation driving growth.
All bar one category sold more in August 2022 compared to the previous year. Nine categories outperformed Merchants overall with Renewables & Water Saving (+27.3%) and Kitchens & Bathrooms (+26.9%) leading the field. Timber & Joinery Products (-5.7%) sold less. With an extra trading day in August 2022, like-for-like sales were +5.0% higher.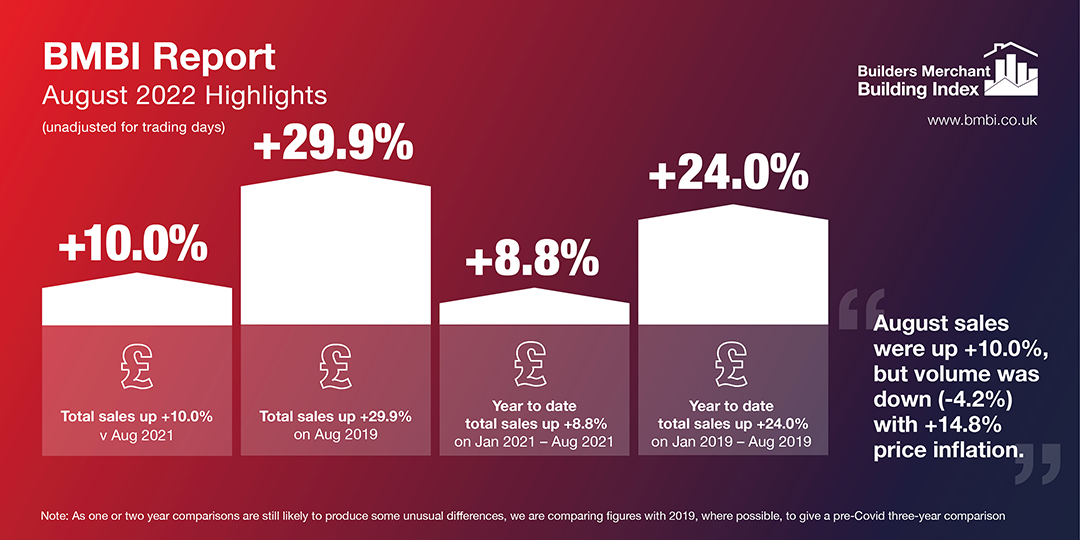 Compared to August 2019, a more normal pre-pandemic year, total merchant value sales were +29.9% higher. Volume sales were down -1.2% while prices were up +31.5%. With one extra trading day this year, like-for-like sales were up +24.0%. Three of the twelve categories grew more than total Merchants with Timber & Joinery Products (+39.9%) the strongest. Landscaping (+35.8%) and Kitchens & Bathrooms (+30.5%) also did better. Heavy Building Materials (+29.6%) grew marginally more slowly, ahead of Plumbing, Heating & Electrical (+18.2%) and other categories.
Month-on-month, total merchant sales were up +1.1% in August compared to July. Volume sales were flat (-0.2%) and prices increased +1.3%. With one more trading day in the most recent period, like-for-like sales were down -3.5%. Services (+5.9%) grew the most, with Kitchens & Bathrooms (+4.9%) not far behind. As in July, Landscaping (-6.1%) was the weakest category.
Mike Rigby, CEO of MRA Research which produces this report, said: "Merchant sales in August recovered with double digit value growth after a flat July. But volumes were down while inflation continued to surge. The uplift in sales may be attributable to an increase in new work in the construction sector during August, despite the continuation of many of the problems which blighted July, such as sustained high temperatures at the start of the month which made working conditions difficult on site.
"However, rising material costs, labour shortages and consumer spend on holidays and travel have continued to impact repair and maintenance work. Merchants may see a further dip in RMI sales as ripples of uncertainty spread outwards from the new Government in Westminster to gum up or slow purchasing decisions of all sizes. Barratt Developments' recent trading update said buyers were reserving an average of 188 homes a week, down from 281 in the last financial year. Chief Executive David Thomas said the slowing pace of sales was a clear sign of customers reacting to wider economic uncertainty.
"Heading into quarter three, the forecast is pretty uncertain. However, the construction industry has proved itself to be resilient time and again, and underlying demand is strong, so merchants may yet finish the year on a positive note."
Developed and run by MRA Research, the BMBI – a brand of the Builders Merchants Federation – is a monthly index of builders' merchant sales, and the most reliable, up-to-date measure of Repair, Maintenance, and Improvement (RMI) activity in the UK. The index is based on actual sales from GfK's Builders' Merchant Point of Sale Tracking Data, which captures value sales out to builders from generalist builders' merchants, accounting for over 80% of total sales from builders' merchants throughout Great Britain. An in-depth review, which includes commentary by sector experts, is provided each quarter.