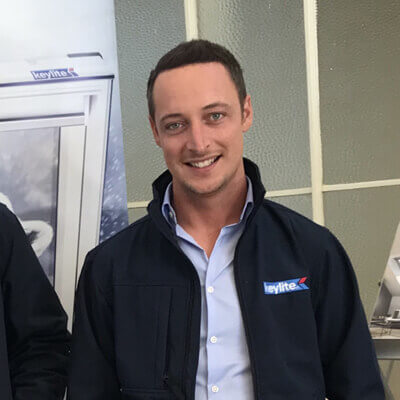 At Keylite, the our role of a Brand Developer is a pivotal one, straddling the boundaries of Sales and Marketing. Tom Jarvis, Brand Developer for the Northern region of the UK, tells us more about what the role entails.
Describe a typical day as a Brand Developer
My day starts vary: a normal start for me is on the road by 5:30am. I can be within most of the Northern Territory within 2 hours for a 7:00am start. That's when builders/merchants start their day and are ready to go so it's important to work alongside their time schedule. Scotland is the furthest part of the territory and takes some planning. Most of the North West, North Wales, The Midlands and North East can be reached within 2hrs 30 drive time. The M1, M42 & M6 are my closest friends in the week!
What does your day involve?
On a demo mornings it's always an early start, which I love, especially during the summer. For me it's about showcasing our product range and actively engaging merchant staff, as well as their customers. The most important part of a demo morning for me personally is presenting Keylite as the refreshing, innovative alternative, displaying our products and letting merchant staff and builders alike experience these products.
Builder blitz days are focused on meeting builders on site and essentially taking the demo morning to them. It's about researching the area and presenting the product in their environment. Preparation has to be put in to this research prior to travelling to the location, which I generally do the night before using our Keylite CRM system, our mailing lists, talking to the Keylite Sales Managers and finding out what is currently active in terms of live projects. Part of my job is also just being observant between destinations of any missed opportunities.
What part of your job do you most enjoy?
No two days are the same. Every day is different and in a new location. I really enjoy the early morning starts and the driving (weirdly). Meeting merchants and builders is always fun and working in this industry is great. We are blessed to have a really proactive and energetic sales team, so it's great to work alongside them all.
What is it that attracted you to Keylite?
Keylite is full of energy and passion. It's an addictive company to work for as everybody has the same mind set in achieving success. There is a strong work ethic and ambition that runs throughout the company and I haven't worked for any other company like this before. When I joined it felt like working for a small family business and even though it is a global business it still has that feeling now 5 years on.
What advice would you give to anyone considering a role like yours?
I'd say you'd need a proactive attitude, an ability to think outside the box and be creative in your approach to generating sales leads for the team. Early starts are essential so getting up early. The role sits half way between sales and marketing so being able to think from both these perspectives is a bonus.