JP Corry is one of Northern Ireland's leading suppliers of building materials and timber products. We chatted with Managing Director, Ciaran McConnell about his plans for the future.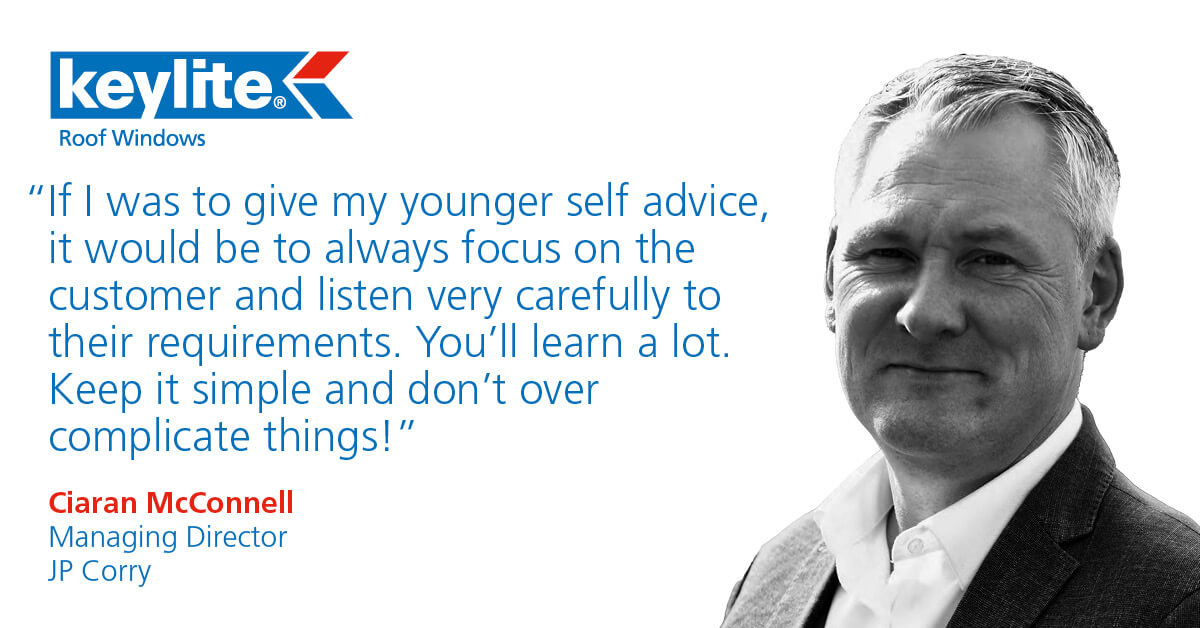 With more than 200 years in business, JP Corry is one of the oldest companies in Northern Ireland. What is the secret of your success?
It may sound a bit of a cliché, but it's our people! For centuries now, we have fostered a 'customer-first' culture, and our team really are at the heart of making this happen.
Tell us about your career progression. Is there any advice you would give your younger self?
I left school a few months before completing my A-Levels when I realised it wasn't the right path for me. I talked to my parents, and I was swiftly told to 'get out and get a job!' Tough love you might say, but it was a great life lesson in the importance of hard work – and what has led me to be Managing Director at the age of 35.
I knew that I wanted a change but didn't know what I wanted to do, and my partner (wife now) applied for JP Corry on my behalf, unbeknown to me. I was successful and started on the counter in September 1999 at the Springfield Road site in Belfast – and I've never looked back!
If I was to give my younger self advice, it would be to always focus on the customer and listen very carefully to their requirements. You'll learn a lot. Keep it simple and don't over complicate things!
Sustainability is high on the agenda in the construction sector. What role has the merchant to play in the journey to net zero?
As merchants, we are speaking to customers all the time, so we have an important, frontline role to play in advising on the latest product innovations that can help improve our impact on the environment.
By partnering with our supply chain, providing solutions in logistics and by supporting training and development we can make a positive impact on our sector.
Sustainability does not just encompass carbon reduction and energy improvement programmes. We should also encourage young people and women into our industry. This is a thriving industry in which people can have a successful career and make many friends along the way.
Build Aviator is an exciting digital initiative. What are the benefits to JP Corry, your customers and end users?
Over the past two years, digital tools and websites have moved on at pace and the Build Aviator estimating tool is no exception.
It enables our customers to quantify, price jobs from drawings, and provide detailed product lists alongside work schedules, providing a full cost analysis of the job ahead. In turn, we can then help our clients to plan and schedule requirements in advance to help avoid delays.
What challenges has JP Corry faced over the last 18 months and how has the business adapted to overcome them?
March 23rd 2020! That first week in which we had to close the business was tough. Supporting our staff and their families who were uncertain about their future and safety was a mammoth challenge.
Over the following weeks and months as we reopened our stores safely, our priority was the health and wellbeing of our staff. Their resilience and support were superb.
This effort continues today as the market recovers and we enjoy continued growth. We fast tracked our digital platform to support the increased level of enquires, improved our external and internal communications and above all, continued our customer-first focus.
JP Corry has a longstanding relationship with Keystone spanning 20+ years, what is special about this relationship?
The family atmosphere in both organisations and trust that we have in each other is paramount. We have a shared aim of growing the businesses together whilst always putting the customer first. These core values demonstrated by Keystone fit the JP Corry ethos perfectly!
What is your outlook for the remainder of the year into 2022?
As we continue to remove restrictions locally and regain a sense of normality, the challenges we have faced from COVID have moved in a different direction. Demand continues to be unprecedented; stock allocations remain low in places, labour and skills shortages are an ongoing concern and logistics and inflation remain a significant challenge ahead.
Yet, these challenges bring a new purpose to the business, to our sector, customers and supply chain, and planning remains a key focus over 2021 and into 2022. Our business continues to flourish, and I see an opportunity for merchants and suppliers to grow together into 2022 and beyond.